Join many friends and neighbors in the Pocket-Greenhaven community for the first annual Pride of the Pocket awards ceremony and bake-off!
The Pocket Greenhaven Community Association and our elected leaders will recognize some of the fantastic people and groups that make our neighborhood such a wonderful place to live, work and play!
Senator Richard Pan, Supervisor Patrick Kennedy, Councilman Rick Jennings and Trustee Darrel Woo will attend and present awards. A team of special guests will provide opening entertainment as well!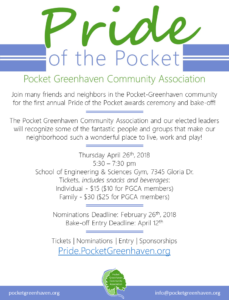 Thursday April 26th, 2018
5:30 – 7:30 pm
School of Engineering & Sciences Gym, 7345 Gloria Dr.

Tickets, includes snacks and beverages:
Individual – $15 ($10 for PGCA members)
Family – $30 ($25 for PGCA members)
Bake-off Entry Deadline: April 19th
We are proud to announce our great neighbors being recognized by our local elected officials:
Senator Pan:
Joe and Jan Matisco
Supervisor Kennedy:
Kathi Windheim
Councilman Jennings:
Beth Koster
Trustee Woo:
Norm Policar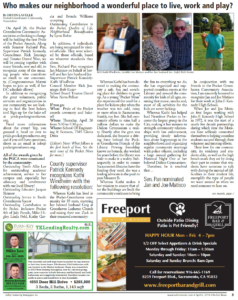 And the following individuals and groups nominated by the community and selected by the PGCA:
Outstanding Service to Youth
Greenhaven Soccer
Outstanding Contribution, Inclusion
4th of July Parade
Outstanding Contribution, Beautification
Lynn Robie
Outstanding Youth
Allie Lee
Outstanding Educator
Jacquie Skinner
Read more about these fantastic Pocket neighbors in the latest PocketNews!